"If a window of opportunity appears, don't pull down the shade." Tom Peters
What a great mindset to have! This is truly a characteristic of Carol Van Zandt Jones and what has led a 'stay-at-home' mom to develop a drip and spill containment oilfield services company from an 'opportunity' to receiving the prestigious 2013 Specialty Industry Supplier of the Year Award by the Oil & Gas Awards in just three short years.
Judge's Comments
The Oil & Gas Awards enlists the help of over 90 Oil and Gas Industry executives to examine, consider and judge the merits of each company that have submits applications for consideration within an award category. Many of the judges were 'wowed' with what Carol and her VZ Environmental team had accomplished and decided them worthy of the award.
"Water supplies need to be protected during drilling and fracturing processes. VZ Environmental has created systems that will protect surface water resources from unavoidable drips and spills."
"Designing products and solutions so the industry can be better stewards of the environment. Hats off to Carol Van Zandt Jones from an idea and some borrowed equipment to more than 100 employees in 3 years."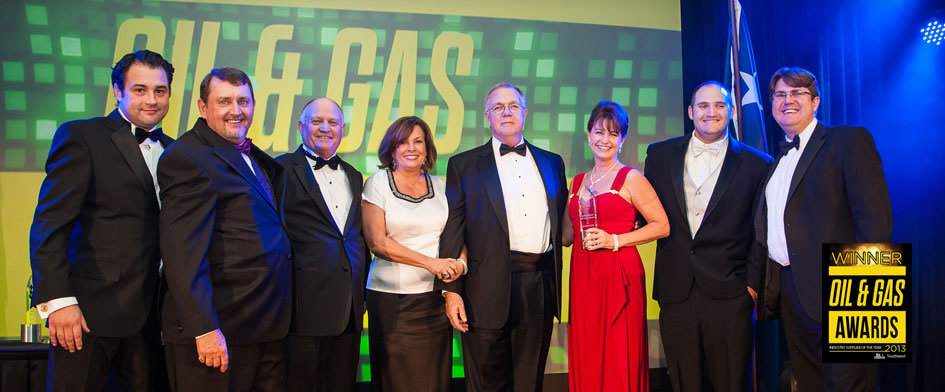 Opportunity Started As A Customers Challenge
Carol Van Zandt Jones was challenged by a customer to find a simple method to contain liquid spills in the oil and gas industry. Carol partnered with equipment supplier Mark Matson to design a drive-over foam bermed containment membrane to capture and dispose of drips and spills on oil and gas sites.
The containment mat, patented as VMatz™, not only met the customer's needs, it became the first unique product supplied by VZ Environmental.
Humble Beginning
Jones started the business out of her home with two employees and a goal to help oil and gas operators minimize their impact on the environment.
Currently, VZ Environmental has over 100 employees, a fleet of 70-plus vehicles, and service units that have assembled VMatz™ components on 100's of well sites in three states.
Responding to another customer's request to create a custom-designed filter to trap silica dust particles on frac sites, VZ Environmental altered a cement industry "dust sock" to create VSoxz™.
Industry Leader
VZ Environmental is now known as a leader in the drip and spill containment industry. Through the use of Vmatz™ and VSoxz™, VZ is accomplishing their goal to environmentally protect surface water and reduce the hazards of silica dust on oil field locations.