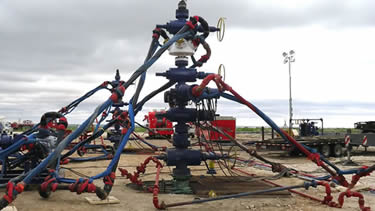 Flow Line Safety Restraints, also referred to as FSR, Red Iron Slings©, Temporary Pipe Restraints and Weir SPM©, reduce the risk of costly damage, injury and death to workers at oil and gas well sites.
Well producers and service providers know that flow lines can fail. It can be from excessive pressure, faulty connections, worn components, trauma to the piping connections, or other factors. The consequences of a flow line failure can be devastating. A professionally installed Flow Line Safety Restraint System by VZ Environmental will offer a peace of mind for producers and well service providers seeking to create a safe well site.
Local Service Yards - Where You Are - 24/7/365
Choose a location below nearest you for local contact information, or call 855.927.5759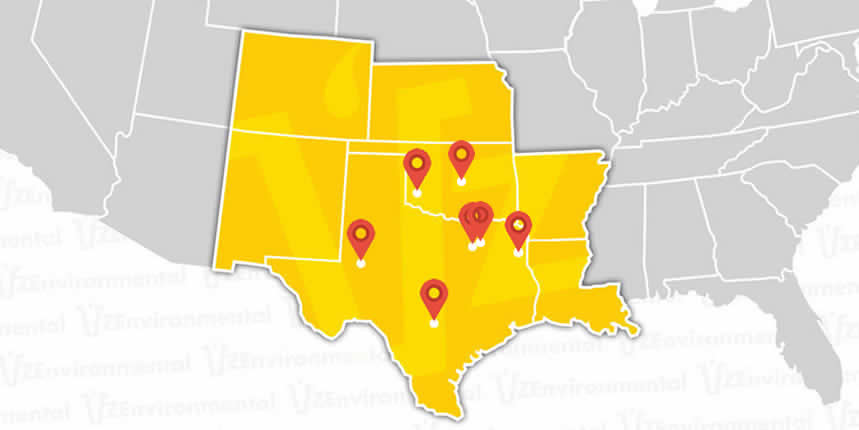 Call us for a quote or use our online contact form.
432.897.1060 (West Texas - Permian)
210.338.8313 (South Texas - Eagle Ford)
318.299.5172 (East Texas/Louisiana - Haynesville)
817.776.4390 (North Texas - Barnett)
580.530.8616 (Central Oklahoma - Anadarko-Woodford)
580.530.8616 (South Oklahoma - Anadarko-Woodford)
855.927.5759 (Corporate)
VZ Environmental has strategic office and fully staffed oilfield service yard locations to efficiently service customers in Arkansas, Colorado, Kansas, Louisiana, New Mexico, Oklahoma and Texas.
VZ Environmental's goal is to maintain a zero Total Recordable Incident Rate (TRIR). The safety or our workers and others at the sites we service is fundamental.
Our Safety Director, Gerald Forrest, maintains on-going safety training and certification for all oilfield services employees and VZ Environmental is rated with all major safety rating companies. This includes Avetta, ComplyWorks, DISA Global Solutions, ISNetworld, PEC Safety and SafeLand USA.
VZ Environmental's commitment to quality is recognized within the Oil and Gas industry.
"Excellence in Health and Safety Products" award.
"Specialty Industry Supplier of the Year" award.
Cover article in Gas, Oil & Mining Contractor.
Featured article in Fort Worth Business Press.
Panel Speaker on "Leadership Ideas in the Oil & Gas Industry".
Our inventory of flow line safety restraints is company owned which ensures our installation team is able to inspect and maintain them properly.
While restraints can be installed multiple times for different jobs, any restraint that has been subjected to any load or shows signs of damage or wear are taken out of inventory immediately and destroyed.
We perform a visual inspection of each component before every use. Additionally, we adhere to the manufacturers requirement of an annual inspection by a manufacturer technician.