Reduce your hourly costs by incorporating the Vermeer LP Series Hydro Excavator Trailer into your site rental plans. With low-cost rental packages available, our vacuum trailers serve many needs in the utility and industrial landscape.
The most common use of vacuum excavation is to safely locate utilities, without damaging lines. Using a vacuum excavator helps prevent additional costs, time delays, and injuries.
Versatility. Reliability. Easy Maintenance.
There are dozens of different wet and/or dry uses that make a hydro vacuum trailer rental the choice of water-boring contractors, utility companies, water, wastewater & storm water departments, military installations, municipalities, roofing companies, emergency and environmental cleanup teams and more.
Hydro Vacuum Excavation
Locating Underground Utility Lines (line locating)
Animal Waste Cleanup
Hurricane Cleanup
Pond Cleanup
Air Vacuum Excavation
Potholing
Cattle Guard Clean Outs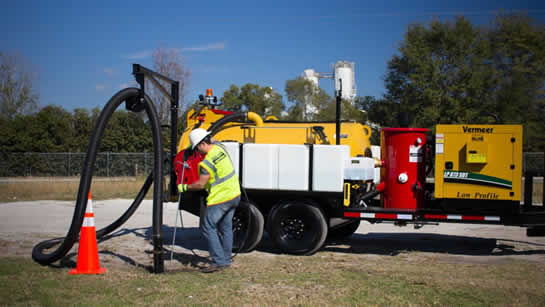 Constructed with 500-800 gallon tanks, diesel engines, and mounted pressure washers, our hydro vacuum trailers provide the tools needed to keep your workers safe and provide an efficient means to many of the tasks needed for industrial and utility companies.
Hydro vacuum excavation is most ideal in plumbing situations dealing with sewers and pipelines underground. By digging through the soil without damaging the existing underground lines, this ensures that the work is completed faster and accurately. The use of hydro excavation also allows your utilities to stay intact without worrying about puncturing a pipe, which could result in a massive repair and excessive cost. This is a benefit to the consumer and the excavation company.
Local Service Yards - Where You Are - 24/7/365
Choose a location below nearest you for local contact information, or call 855.927.5759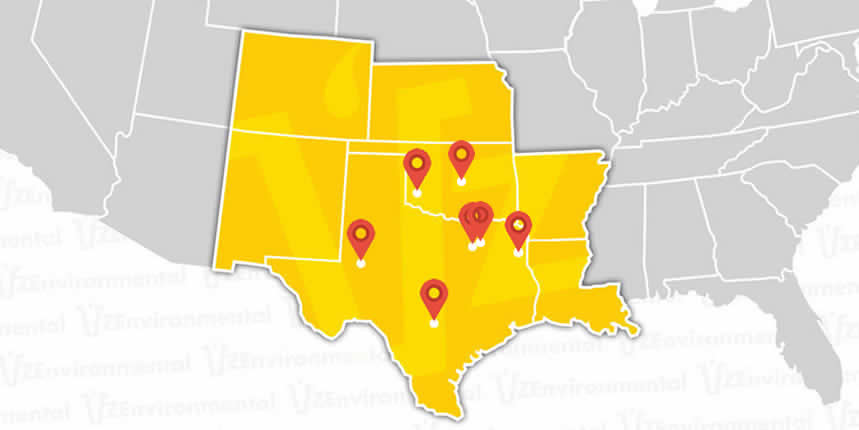 Call us for a quote or use our online contact form.
432.897.1060 (West Texas - Permian)
210.338.8313 (South Texas - Eagle Ford)
318.299.5172 (East Texas/Louisiana - Haynesville)
817.776.4390 (North Texas - Barnett)
580.530.8616 (Central Oklahoma - Anadarko-Woodford)
580.530.8616 (South Oklahoma - Anadarko-Woodford)
855.927.5759 (Corporate)
VZ Environmental has strategic office and fully staffed oilfield service yard locations to efficiently service customers in Arkansas, Colorado, Kansas, Louisiana, New Mexico, Oklahoma and Texas.
VZ Environmental's goal is to maintain a zero Total Recordable Incident Rate (TRIR). The safety or our workers and others at the sites we service is fundamental.
Our Safety Director, Gerald Forrest, maintains on-going safety training and certification for all oilfield services employees and VZ Environmental is rated with all major safety rating companies. This includes Avetta, ComplyWorks, DISA Global Solutions, ISNetworld, PEC Safety and SafeLand USA.
VZ Environmental's commitment to quality is recognized within the Oil and Gas industry.
"Excellence in Health and Safety Products" award.
"Specialty Industry Supplier of the Year" award.
Cover article in Gas, Oil & Mining Contractor.
Featured article in Fort Worth Business Press.
Panel Speaker on "Leadership Ideas in the Oil & Gas Industry".
Our rental inventory of vacuum trailers is meticulously maintained by experienced personnel to maximize safety, efficiency and reliability on your site.