Reduce your hourly costs by incorporating our Vac-Tron vacuum trailers into your site rental plans. With low-cost rental packages available, our vacuum trailers serve a niche market as solutions to minor spills and cleanup.
Constructed with 500-800 gallon tanks, diesel engines, and mounted pressure washers, our vacuum trailers provide minor washout and cleanout services. Applicable for oilfield and industrial usage. Both rental and service options available to all customers.
Call us for a quote or use our online contact form.
855.927.5759 (Corporate)
817.776.4390 (North Texas - Barnett)
210.338.8313 (South Texas - Eagle Ford)
432.897.1060 (West Texas - Permian)
318.299.5172 (East Texas/Louisiana - Haynesville)
580.530.8616 (Oklahoma - Anadarko-Woodford)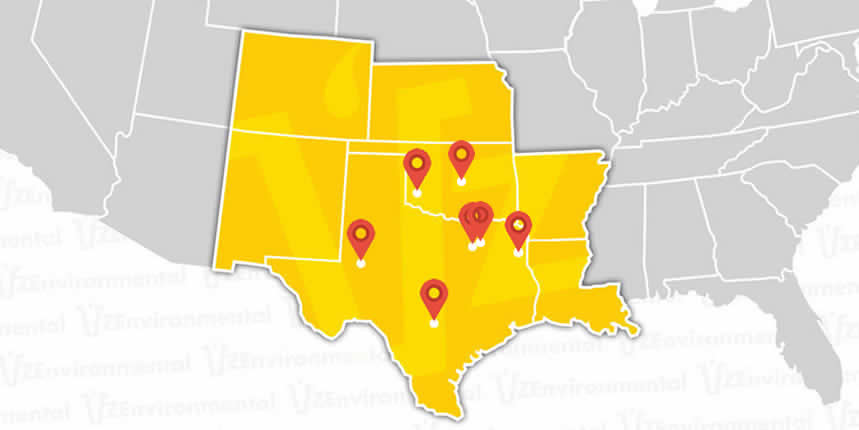 VZ Environmental has strategic office and oilfield service yard locations to efficiently service customers in Arkansas, Colorado, Kansas, Louisiana, New Mexico, Oklahoma and Texas.
VZ Environmental's goal is to maintain a zero Total Recordable Incident Rate (TRIR). The safety or our workers and others at the sites we service is fundamental.
Our Safety Director, Gerald Forrest, maintains on-going safety training and certification for all oilfield services employees and VZ Environmental is rated with all major safety rating companies. This includes Avetta, ComplyWorks, DISA Global Solutions, ISNetworld, PEC Safety and SafeLand USA.
VZ Environmental's commitment to quality is recognized within the Oil and Gas industry.
"Excellence in Health and Safety Products" award.
"Specialty Industry Supplier of the Year" award.
Cover article in Gas, Oil & Mining Contractor.
Featured article in Fort Worth Business Press.
Panel Speaker on "Leadership Ideas in the Oil & Gas Industry".
Our rental inventory of vacuum trailers is meticulously maintained by experienced personnel to maximize safety, efficiency and reliability on your site.