VZ Environmental provides complete turnkey secondary drip and spill containment services on frac sites for oil field service companies and operators. We provide our patented drip and spill containments, called Vmatz™, under frac tanks, chemical totes, fuel trucks, pumps and any other kind of vehicle or equipment.
Company men contracting with VZ Environmental find our quality of service, responsiveness and reliability is first-class. On-site workers interacting with our portable, foam berm wall containments realize the 6" drive over foam walls (which require no staking) are superior to other spill containment mats.
As part of your competitvely priced contract with us, our trained and qualified personnel perform complete rig-up, maintenance and rig-down of the spill containment mats as specified by the customer.
Local Service Yards - Where You Are - 24/7/365
Choose a location below nearest you for local contact information, or call 855.927.5759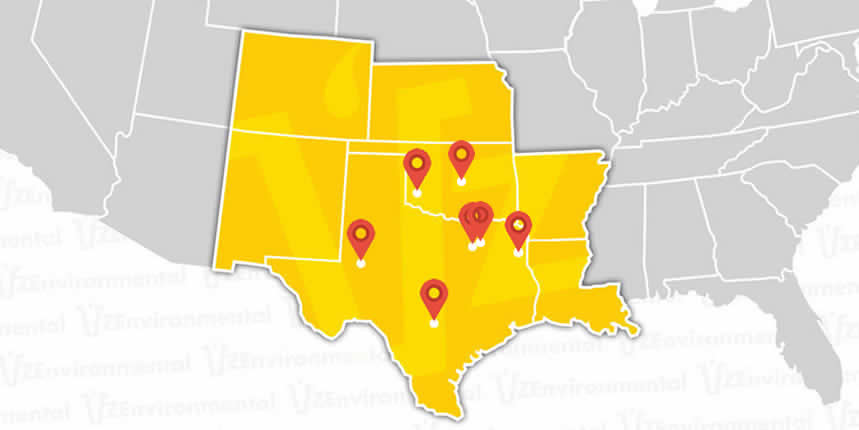 Call us for a quote or use our online contact form.
432.897.1060 (West Texas - Permian)
210.338.8313 (South Texas - Eagle Ford)
318.299.5172 (East Texas/Louisiana - Haynesville)
817.776.4390 (North Texas - Barnett)
580.530.8616 (Central Oklahoma - Anadarko-Woodford)
580.530.8616 (South Oklahoma - Anadarko-Woodford)
855.927.5759 (Corporate)
VZ Environmental has strategic office and fully staffed oilfield service yard locations to efficiently service customers in Arkansas, Colorado, Kansas, Louisiana, New Mexico, Oklahoma and Texas.
VZ Environmental's goal is to maintain a zero Total Recordable Incident Rate (TRIR). The safety or our workers and others at the sites we service is fundamental.
Our Safety Director, Gerald Forrest, maintains on-going safety training and certification for all oilfield services employees and VZ Environmental is rated with all major safety rating companies. This includes Avetta, ComplyWorks, DISA Global Solutions, ISNetworld, PEC Safety and SafeLand USA.
VZ Environmental's commitment to quality is recognized within the Oil and Gas industry.
"Excellence in Health and Safety Products" award.
"Specialty Industry Supplier of the Year" award.
Cover article in Gas, Oil & Mining Contractor.
Featured article in Fort Worth Business Press.
Panel Speaker on "Leadership Ideas in the Oil & Gas Industry".
Innovative VMatz™ spill containments are developed and refined through everyday usage in the oil and gas industry. They are made in the United States and protected by US Patent # 8479946 and 8740006 . Patents pending in Canada and Mexico.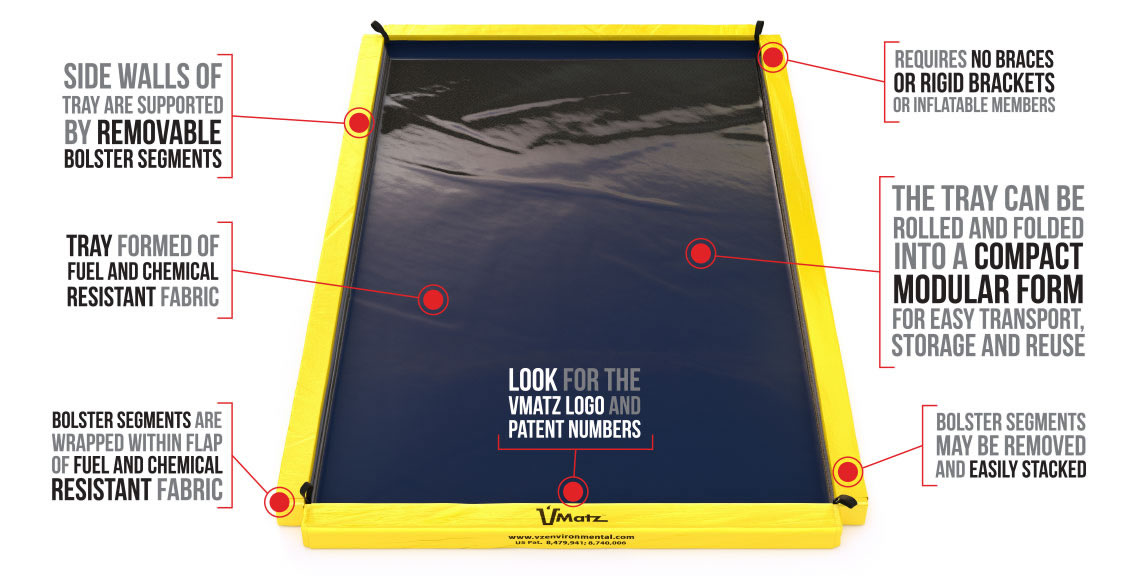 US Patent #8479946
Side walls of the tray are supported by removable bolster segments formed of resilient open cell foam members enclosed within sleeves. The bolster segments are wrapped within a flap of material extending from under the side wall of the tray and around the bolster segments to secure them to the side walls. The outer edge or end of the flap is secured to the side wall. The bolstered side walls may be repeatedly driven across by industrial vehicles without harming the bolster or side wall. The modular bolster segments may be removed and easily stacked, and the tray folded and rolled into a compact modular form, for transport, storage, and reuse of the portable containment tray.
Integrity. Reliability.
Qualities you consider when choosing an oilfield services company to perform secondary spill containment services on your frac site.
If your current or potential provider is using spill containment mats that boast the VMatz patented feature...but don't display the VMatz logo and patent numbers then it's likely they are using a VMatz knock-off and infringing upon the patents we've been granted.
Want To Be Sure?
If you have any questions regarding the secondary spill containment mats on your job site please contact us or call 855.927.5759.