Our custom VPondz highwall containment solutions provide a quick, effective and cost-efficient alternative to steel containment barriers for any oil and gas application, whether you're containing 1 tank or over 100.
Vpondz are portable, light-weight, high-wall secondary containment solution for Frac Tank drip and spill containment when fracing. They are light-weight and assemble usually in one day.
VZ Environmental introduced custom-designed, portable VPondz to address our customer's special needs for larger volume spill containment to house one or many frac tanks lined up in service during fracing operations. Mobile, quick Rig-up and Rig-down. VPonds have proven to be a cost-effective option for frac tank containment by saving time and manpower. Cost and set-up time is significantly reduced over the traditional enclosures.
Our vast experience with VPondz on a variety of Frac Tank Containment configurations allows us to work with you to provide custom solutions for your specific needs and site layout.
Local Service Yards - Where You Are - 24/7/365
Choose a location below nearest you for local contact information, or call 855.927.5759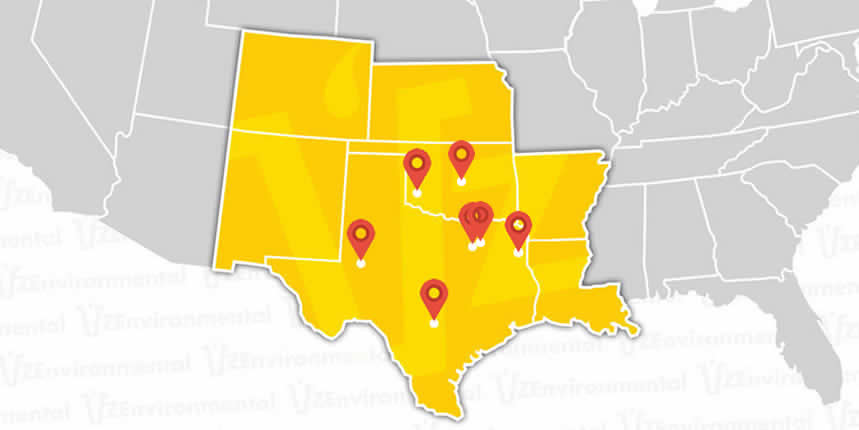 Call us for a quote or use our online contact form.
432.897.1060 (West Texas - Permian)
210.338.8313 (South Texas - Eagle Ford)
318.299.5172 (East Texas/Louisiana - Haynesville)
817.776.4390 (North Texas - Barnett)
580.530.8616 (Central Oklahoma - Anadarko-Woodford)
580.530.8616 (South Oklahoma - Anadarko-Woodford)
855.927.5759 (Corporate)
VZ Environmental has strategic office and fully staffed oilfield service yard locations to efficiently service customers in Arkansas, Colorado, Kansas, Louisiana, New Mexico, Oklahoma and Texas.
VZ Environmental's goal is to maintain a zero Total Recordable Incident Rate (TRIR). The safety or our workers and others at the sites we service is fundamental.
Our Safety Director, Gerald Forrest, maintains on-going safety training and certification for all oilfield services employees and VZ Environmental is rated with all major safety rating companies. This includes Avetta, ComplyWorks, DISA Global Solutions, ISNetworld, PEC Safety and SafeLand USA.
VZ Environmental's commitment to quality is recognized within the Oil and Gas industry.
"Excellence in Health and Safety Products" award.
"Specialty Industry Supplier of the Year" award.
Cover article in Gas, Oil & Mining Contractor.
Featured article in Fort Worth Business Press.
Panel Speaker on "Leadership Ideas in the Oil & Gas Industry".
VZ Environmental is invested in our VPondz portable Frac Tank containment systems and maintains a large inventory of walls and materials which allows us to service multiple frac sites with customized frac tank containment solutions simultaneously.
Our crew leaders and crew members are trained and experienced in inspecting and ensuring our products are well-maintained for use on each project.