VMatz secondary drip and spill containment liner mats are a reliable method of reducing the risk to the ground and surface water. Developed through suggestions from our VZ Environmental Oilfield Services customers, the patented VMatz spill containment liner systems have repeatedly proven to be durable, safe and easy to use.
The key is its revolutionary modular-design!
Modular Design Has Revolutionized Secondary Containment
Never before has a spill containment been as easy to transport, rig-up and rig-down as the VMatz system.
VMatz containments have two components - Drip Pan Tarp Liner and Drive-over, Foam Stick Walls. Assembled together they form a VMatz. Lightweight components make the whole unit easier to handle. This also creates a more compact storage system which assists with ordinary transportation.
Built to be Strong, Durable and Chemical Resistant
All VMatz secondary drip and spill containment liners are constructed with high quality, vinyl coated polyester and are resistant to oils, fuel, chemicals and other hazardous materials.
Economical Due to a Longer Lifetime
Modular designs are more economical to use because replacement parts are less expensive than the cost of replacing the entire unit.
Resilient Foam Wall Technology
The side walls of a VMatz are called VStickz™. These are resilient foam berms enclosed in vinyl coated polyester and can be driven over by heavy equipment without harming the integrity of the spill containment. Foam wall berms are superior to air wall berms and easier to maintain than containment walls staked with brackets. The chemical resistant fabric encasing VStickz provides protection from moisture and preserves the life of the resilient foam.
Safe Design - Fewer Slips, Trips and Falls
No metal brackets needed! Bright green or yellow foam walls run continuously along the side of the containment. The chemically resistant liner fabric is textured to further protect users from slips, trips and falls during use.
These eight Standard Sizes are the most popular. They are in-stock and ready to ship.
| DIMENSIONS | SKU | CAPACITY | WEIGHT |
| --- | --- | --- | --- |
| 5' x 5' x 6" | VMATZ-050506 | 2 barrel | 21 lbs |
| 8' x 8' x 6" | VMATZ-080806 | 5 barrels | 42 lbs |
| 12' x 10' x 6" | VMATZ-121006 | 10 barrels | 74 lbs |
| 12' x 20' x 6" | VMATZ-122006 | 20 barrels | 99 lbs |
| 12' x 30' x 6" | VMATZ-123006 | 30 barrels | 137 lbs |
| 12' x 40' x 6" | VMATZ-124006 | 40 barrels | 177 lbs |
| 12' x 50' x 6" | VMATZ-125006 | 51 barrels | 215 lbs |
| 12' x 60' x 6" | VMATZ-126006 | 61 barrels | 255 lbs |
Watch our short VMatz Spill Containment video to see it on a job site.
Innovative VMatz™ spill containments are developed and refined through everyday usage in the oil and gas industry. They are made in the United States and protected by US Patent # 8479946 and 8740006 . Patents pending in Canada and Mexico.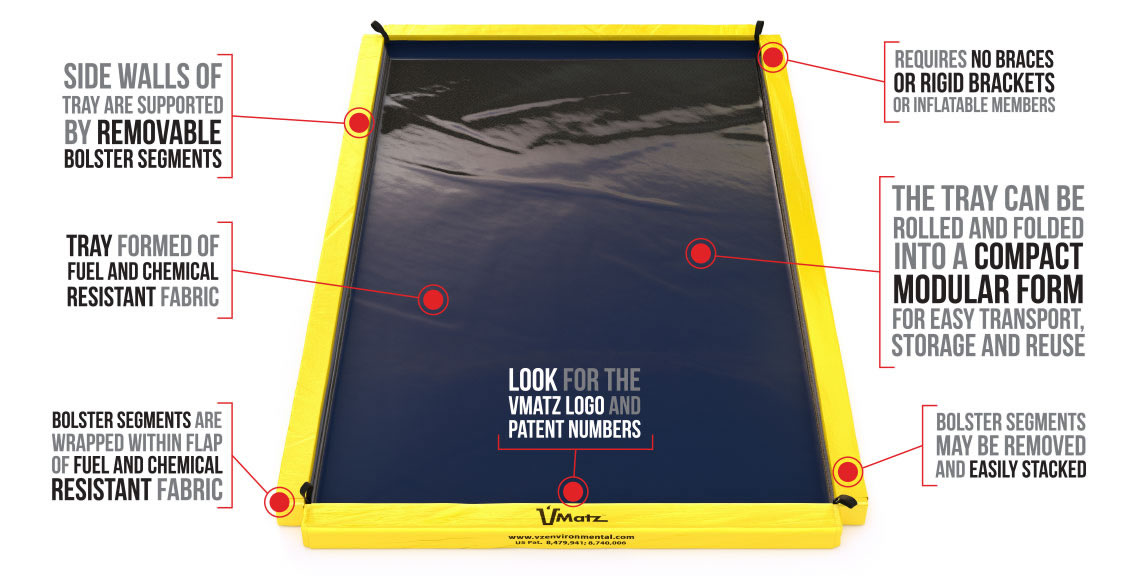 US Patent #8479946
Side walls of the tray are supported by removable bolster segments formed of resilient open cell foam members enclosed within sleeves. The bolster segments are wrapped within a flap of material extending from under the side wall of the tray and around the bolster segments to secure them to the side walls. The outer edge or end of the flap is secured to the side wall. The bolstered side walls may be repeatedly driven across by industrial vehicles without harming the bolster or side wall. The modular bolster segments may be removed and easily stacked, and the tray folded and rolled into a compact modular form, for transport, storage, and reuse of the portable containment tray.
Integrity. Reliability.
Qualities you consider when choosing an oilfield services company to perform secondary spill containment services on your frac site.
If your current or potential provider is using spill containment mats that boast the VMatz patented feature...but don't display the VMatz logo and patent numbers then it's likely they are using a VMatz knock-off and infringing upon the patents we've been granted.
Want To Be Sure?
If you have any questions regarding the secondary spill containment mats on your job site please contact us or call 855.927.5759.